Hi Bloggers,Sorry for not updating the site these many days..I was a bit busy in my studies.So,I don't have enough time to update the website.Once again sorry for that,But i will update the site frequently when ever i had time
:)
So,Don't leave us Friends and my dear loyal readers.Today i like to share these beautiful Blogger Template which was designed by
Bloggermint
for bloggers.Thanks To Him for sharing these beautiful template with us.
The template has much features like as follows :
SEO optimized
Clean and neat interface
Premium features like bubble comments, page numbered navigation
Easy to customize
Author widget below every post
Sleek Facebook and Twitter share count button
Navigation bar with sub nav.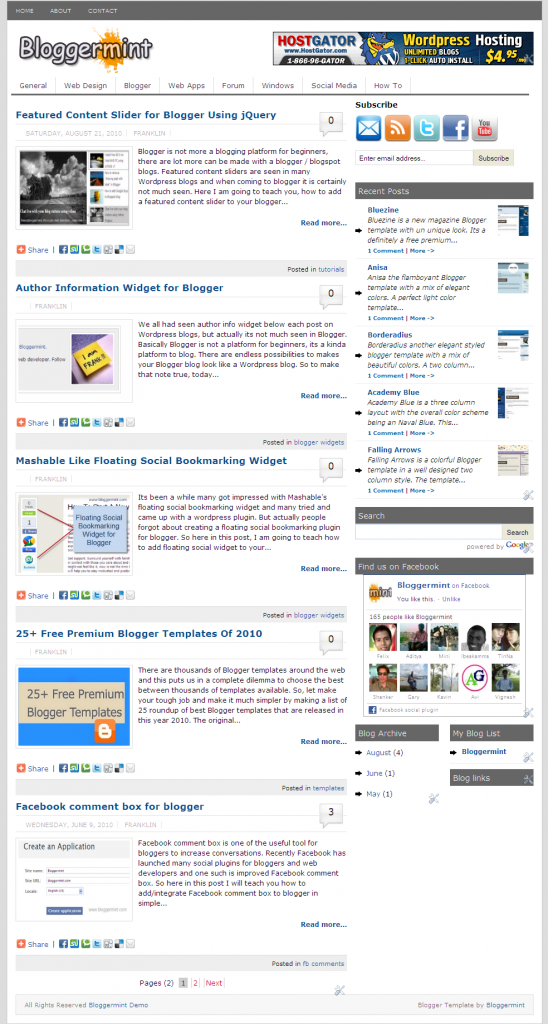 Live Demo | Download
It also has:
Author Info Widget:
To change the Author Info Widget...Just goto the edit html and tick the expand widgets option and now search for the code
<div class='author_info'>
and now change any text you like to edit like adding a bio of author...! which you like to see it on author info widget.And now to change the image,create a image with a size of 130x130 pixels and change these Url http://i50.tinypic.com/iw7lec.jpg with your image uploaded Url.
It also has
Header Banner,
Twitter Share Button,Subscribe Bar,Navigation bar
Please Drop Your Valuable Comments And Let Us Know What Do You Think On These Post...
If You Have Any Problem With Template,Let Us Know By Your Comments.Have A Nice Day :)